PATIENT RECORD
The HEALTH one™ patient record allows easy access to all information about a patient in one location. Summary information such as chronic and acute problems, allergies and medications are instantly available.
APPOINTMENTS AND WAITING ROOM
HEALTH one™ has a very comprehensive and user-friendly appointments system which makes it easy to manage the workflow in your practice.
Appointment entries are colour coded, to indicate status. Standard functionality within the system easily allows for re-bookings, bookings at any date in the future, analysis of waiting times, etc. Appointments can be dragged and dropped between users, times and dates. Multiple different users can be displayed very easily on the fly.
Time blocks for holidays and other tasks can easily be created. Daily-weekly-monthly views as well as a waiting room view, per user or for all users.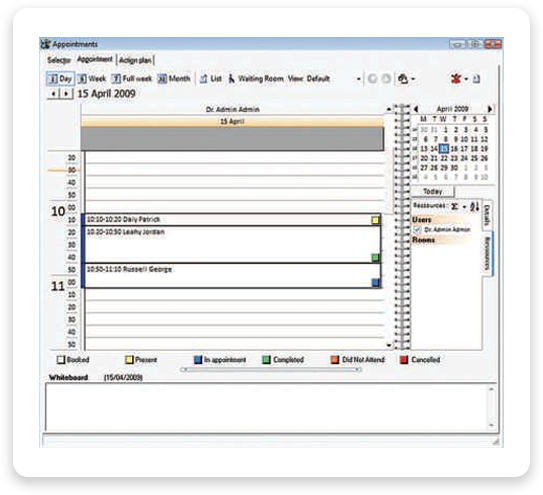 OTHER FUNCTIONALITY
Users with internet access can receive automatic updates to HEALTH one™. This usually occurs in the middle of the night and without the need for any user intervention.
Text Messaging – This simple, yet highly effective featureallows sites to send text message reminders to patients. Remind about appointments and reduce non-attendance rates, notify patients of lab results and examination recalls. Text messaging is a proven and cost-effective way to communicate with your patients.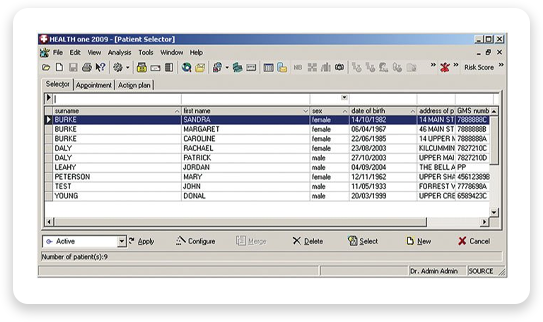 WEBSYNC
This exciting functionality allows sites to synchronise data seamlessly and transparently in a highly secure manner between sites.
Traditionally users with multiple sites had to transport laptops or portable drives between locations – this is no longer the case. With WebSync, data in all sites can be automatically synchronised in the background, in near real-time with almost no intervention. This saves time and provides peace of mind through secure backup and data availability.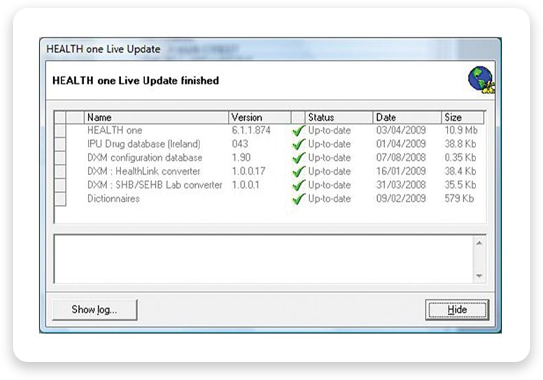 GDPR SENTIAL
Data subject access requests – investigate and manage all data access requests and export patient notes to ensure that they can easily be completed within the 1-month mandatory timeline outlined by GDPR.
Data auditing – Reporting functionality to assess, monitor and report on how, when and where your data is accessed.
Product access security enhancements – improved system passwords to include expiry dates, appropriate levels of character complexity and mandatory minimum password lengths.
The right to be forgotten – We facilitate any right to be forgotten requests that you may receive by providing a dedicated support function to qualify and process any such requests that have met a pre-determined set of GDPR compliant conditions.
Request a demo
Request a Demo with one of our Product Specialists