Clanwilliam Health is the primary and secondary care management solutions Division of Clanwilliam Group. In the 1980s, we delivered our first software system to pharmacies in Ireland. By the 90's we had delivered our first practice management system for private consultants and general practitioners.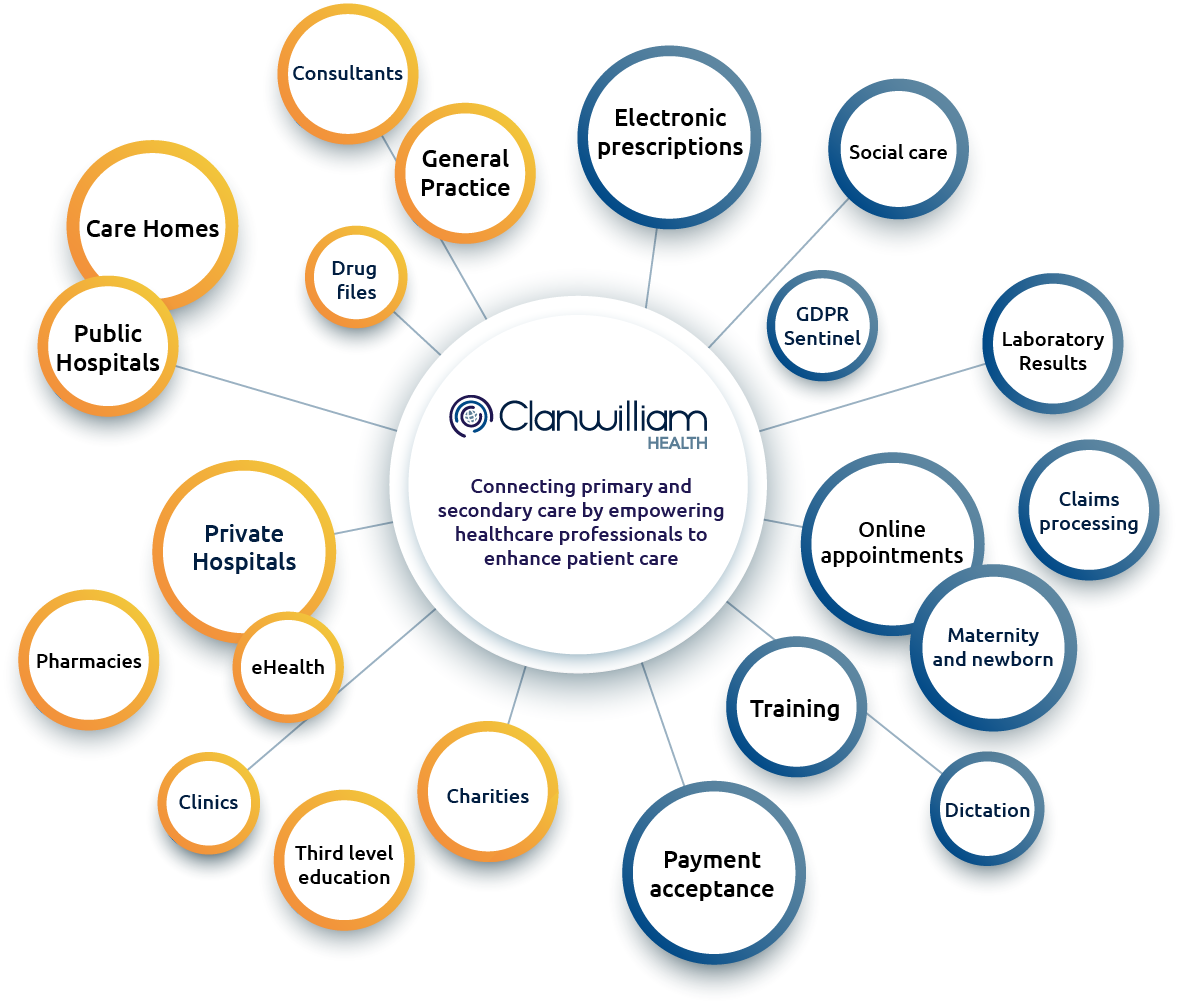 Today Clanwilliam Health holds over 30 years of experience developing and designing healthcare software. Our extensive range of innovative technology now empowers more than 20,000 clinical users across Ireland and the UK to deliver safer, more efficient and cost-effective patient services.
Our vision is to enable the seamless flow of patient data by connecting primary and secondary healthcare software systems to enhance patient experiences. We work hard every day to achieve this by putting our customers at the centre of everything we do and partnering with key industry stakeholders to ensure our systems consistently exceed expectations.
As a Division of Clanwilliam Group, we also share their mission of working together to improve healthcare for everyone by connecting people, products and places.
Our vast experience of working with GPs, Consultants, Pharmacists, Care Homes and Hospitals gives us a unique understanding of how technology can help improve efficiencies for healthcare providers while also enhancing the patient experience. This expertise has fuelled our involvement in a number of bigger picture projects, in collaboration with various stakeholders, such as:
e-referral scheme
Individual Health Identifier (IHI)
eScript
Senator
Our practice management software applications (traditional and hosted) are used by both General Practitioners and Hospital Consultants. Our pharmacy software applications are used in both community and hospital pharmacies while major chains, groups, multiples and large numbers of independent pharmacies make up our customer base.
While Clanwilliam Health has enjoyed steady growth over the years, our dedication to our mission statement remains the same:
"To create software that provides healthcare professionals with the strongest possible digital foundation from which to deliver enhanced patient outcomes"
We pride ourselves on our values and make sure we stick to them in all of our internal and external interactions
We put our customer at the centre of everything we do and we commit to the continuous improvement of our people and products.
We develop market-leading software systems that support healthcare professionals to advance patient care.
We want to work with industry partners to provide our customers with bleeding edge solutions to their requirements.
We value our people – we are diverse, inclusive, friendly and supportive.
We work hard and aim to exceed expectations and encourage people to have fun while we do it.
We are a committed team – we believe that Together Everyone Achieves More, we support each other and we learn from our mistakes collectively.
0
offices across the UK & Ireland